Massage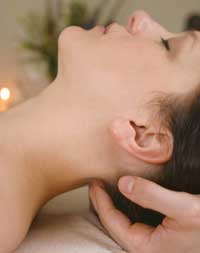 Massage is often prescribed before or after the acupuncture treatment to loosen the muscles, help the patient relax and locate key trigger points, especially in the case of chronic muscular skeletal problems.

Deep Tissue Massage
Gets in between the muscle fibers to remove toxic waste material. Daily stress, injuries and overexercise or lack of exercise constrict our muscles and cut off the flow of blood. Deep tissue massage helps release the resulting knots and, when done properly, is not painful. Neuromuscular myofascial release, shiatsu are just a few types of deeper massage.

Relaxation Massage
Relaxation massage is lighter in pressure and has a soothing effect.

Revitalizing Massage
A fifteen-minute acupressure massage of the head, neck, shoulders and back, a revitalizing massage is performed while you are seated in a chair, fully clothed. The technique provides quick stress relief.
Acupuncture | Herbs | Massage | Oriental Medicine